Meet Ben & Simon and their domestic BDSM bliss…
"Leather and Tea"
Available from JMS Books, and from Amazon!
Also here at BN !
Some nights, American secret agent Ben Smith just wants to come home to his husband. He misses that English accent and smile and, of course, Simon on his knees. He wants his perfect submissive at his feet, so the world and his mission can fall away.
Some nights, romance writer Simon Ashley misses his dashing American other half. Tea is nice, but it can't pin him down in bed and make him beg, reminding him he's loved and belongs to someone. He wants to forget everything and everyone he's left behind, and just belong to Ben.
Tonight, they both get what they want when Ben comes home early…
"A Leather and Tea Morning"
The sequel to Leather and Tea!
Retired secret agent Ben Smith has never been happier: married to his romance-novelist husband, settled into their life together, learning to bake scones because Simon likes them. But all Ben's training and skills can't deflect the car accident, or the injuries. Simon's not badly hurt, but Ben can't stop thinking about it. He promised to keep Simon safe, in bed and out of it. But what if he can't?
It's been three weeks. Simon's been going crazy. He's completely fine now, but his husband keeps treating him like glass, fragile and breakable. Simon isn't breakable, though, and misses Ben's hands, the touch of leather, cuffs and caresses and the thrill of submission.
He's just going to have to prove to his husband he's safe and alive and ready for anything. And he's a romance writer, after all, so he's going to make this a perfect scene, and a morning to remember.
"Leather and Tea in London"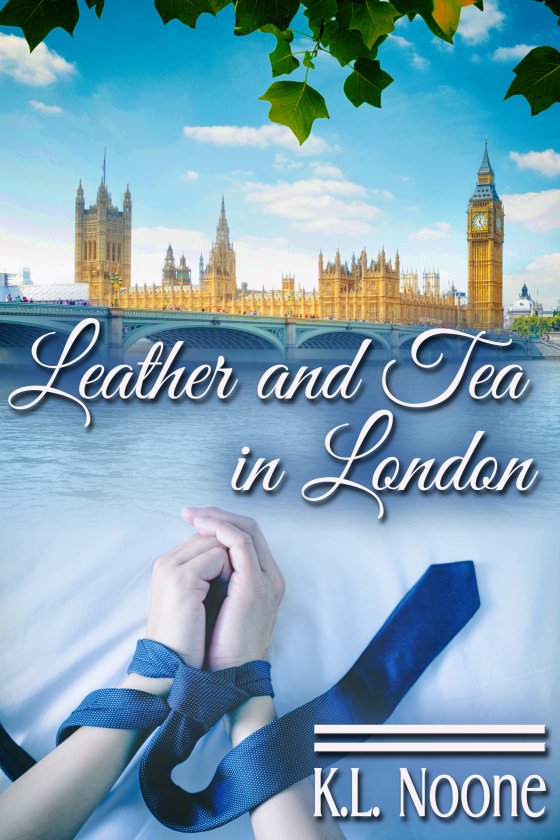 JMS Books
Retired secret agent Ben Smith will do anything for his husband. So when Simon's brother calls from London to say he's being blackmailed, Ben and Simon pack up and head to the glittering world of English aristocratic younger sons and parties and incriminating photographs. The mission itself isn't complicated — but it's a reminder of the past, even as Ben's been trying to move on.
Simon Ashley adores his husband, and loathes most of his family … except for the older brother who once gave him a home. He's here because Stephen needs help, but being back in the family house stirs up too many memories, none of them pleasant.
In London, Ben and Simon will confront a blackmailer, face the past, and find comfort in each other … with some leather and tea, of course.
"Leather and Tea in London" is also available as part of the Hurts So Good Trio Collection from JMS – you get three m/m BDSM stories bundled together, at a slight discount on each!
"Leather and Tea" in 2018 Top Ten Gay Romance, edited by J.M. Snyder, from JMS Books!

I'm so happy about this – I love this story, and I'm so excited and honored to be in such lovely company!
So come discover our bestselling authors in this delicious collection of bestselling stories!