Full-length Novels
The Character Bleed Trilogy (contemporary with historical touches – actors filming a gay historical drama! M/M (gay & bisexual), with lesbian, pansexual, and asexual supporting characters!)
Book One: Seaworthy
A Good Sex Awards Runner-Up for Sexiest Consent!
JMS Books 
An epic motion picture! A gay Napoleonic War love story! Ballrooms and battles at sea! Romantic happy endings on the silver screen! And a film that'll change everything for its stars…
Jason Mirelli can't play adrenaline-fueled action heroes forever. He's getting older, plus the action star parts have grown a little thinner since he came out as bisexual. This role could finally let him be seen as a serious dramatic actor, and he needs it to go well — for his career, and because he's fallen in love with the story and the chance to tell it.
The first problem? He'll be playing a ship's captain… and he hasn't exactly mentioned his fear of water. The second problem? His co-star: award-winning, overly talkative, annoyingly adorable — and openly gay — box office idol Colby Kent.
Colby's always loved the novel this film's based on, and he leapt at the chance to adapt it, now that he has the money and reputation to make it happen. But scars and secrets from his past make filming a love story difficult … until Jason takes his hand and wakes up all his buried desires. Jason could be everything Colby's ever wanted: generous and kind, a fantastic partner on set, not to mention those heroic muscles. But Colby just can't take that chance… or can he?
As their characters fall in love and fight a war, Colby and Jason find themselves falling, too… and facing the return of their own past demons. But together they just might win… and write their own love story.
Book Two: Stalwart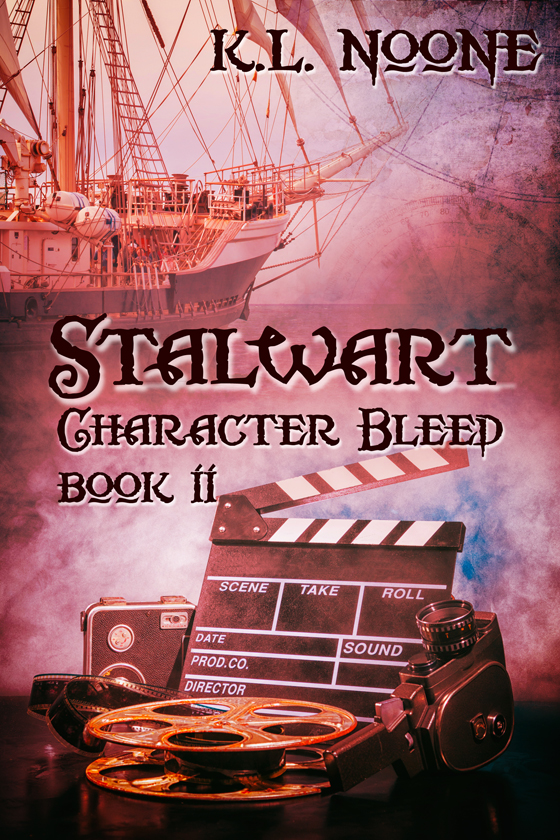 JMS Books
Cameras, thunderstorms, and love confessions! And a secret or two …
Jason Mirelli couldn't be happier. Filming's going well, he loves his role, and he and Colby Kent have unexpectedly fallen for each other on screen and off… and into bed. Everything seems wonderful, but Jason can't help worrying. This is the role that'll save his career, he's sleeping with his co-star, and Colby needs him to take things slow, but Jason's already head over heels in love. It's getting harder and harder to watch Colby pretend to be ill and in pain, even if it's only in character… and a single on-set accident might make Jason's worst fears come true.
Colby's happier than he's been in a very long time. He's telling a story that he loves, he's playing a character he's always adored, and he wants to share all of himself with Jason, on camera and off. He knows he's falling in love with Jason, but he also knows it's too fast, and he's been hurt before. Besides, he has one final secret he's been afraid to confess. He wants to trust Jason completely, but before he can, an accident on set might threaten every love story they've been creating.
Book Three: Steadfast
JMS Books
A love story for the ages! An intimate confession! An epic quest! And happily ever after on the horizon …
Jason Mirelli loves Colby Kent. And Colby loves him. They've told the world. And Colby's recovered from injury, so they're back at work and back on set. Jason just might have everything he's ever dreamed of, with a serious leading role, an epic love story, and Colby safe and happy in his arms — but they only have two weeks of filming to go. He's afraid of the dream falling apart, and he knows Colby has a secret to confess — one that could transform both the ending of their movie and their future together.
Colby never got around to telling Jason his final secret before his accident on set. Now that he's recovered, he plans to — he wants to share his writing and his silent script doctor work with the man he loves. Besides, he's rewritten this script to give their characters a proper happy ending. But he's nervous about making changes to a classic novel, and he wants the author's approval.
Colby's hoping to seek out the famously reclusive author in question, but first he'll need to trust Jason with this last piece of himself. If he can, he and Jason might finally find their happily-ever-after both on screen and off — for their characters and for themselves.
"Cinnamon and Strawberries: A Character Bleed Story"
JMS Books
Jason and Colby fell in love on a movie set, and found their own happy ending. But now that filming's over, they'll have to figure out what's next, as holiday bells start ringing in the air.
Jason's ready to move in if Colby asks — but he's not sure Colby's ready for that. Colby's hoping Jason wants to stay — but has a hard time believing in promises.
Together, they'll face their first holiday season as a celebrity couple, complete with breakfast in bed, new uses for sparkly ribbon, mince pies, and learning how to live together … and a few surprise celebrations.
"Celebrations: A Character Bleed Story"
JMS Books
BN
For two successful actors, the convention circuit's part of the job, but for Jason and Colby, it's a challenge.
Jason's been a convention guest before. But he's never let himself relax and enjoy it, too busy being an action hero to indulge his dice-rolling, fantasy-loving, science-fiction geek side. And Colby loves the idea of conventions, but has never been to one. He's not comfortable with crowds and contact and demands, especially not these days.
But they've got a very epic, very gay, new fantasy movie to promote. So they'll navigate panels and photos and excitable fans together. And at the end of the day, Jason can give Colby some much-needed comfort … and together they'll discover how much fun this new adventure can be.
One Night in London
A three-in-one historical novel collaboration with Shelly Greene and K.S. Murphy! Three couples, three m/m romances, three interconnected stories, and one night at a ball, in Regency London…
James and Nicholas by Shelly Greene: Widowed viscount James Thorne insists he will never remarry — not because he could never love again, but because he secretly already does. His late wife's brother, Nicholas, is too closely related by law; James's love is unseemly, violating honor and propriety. When Nicholas is badly injured in an accident, will James be shaken into confessing his feelings? Or will he lose Nicholas forever?
Dalton and Edward by K.S. Murphy: Tonight's ball announces Dalton Irving's engagement to a man his parents chose for him. But Dalton's intended has made it clear that he wants nothing to do with being married to Dalton. When disaster strikes, and Dalton finds himself alone with Duke Edward Whitman, who has little patience for people and even less for discourtesy, anything can happen during this one night in London.
Robert and Anthony by K.L. Noone: Tonight's ball celebrates Robert's engagement and his intended's fortune. But Robert's in love with someone he can't have: his secretary Anthony. Anthony's family once was wealthy, though now he works for a living. But he's had some success as a secret lurid novelist, and he's hopelessly in love with Robert. When disaster strikes, secrets are revealed, and everything changes.
You can also buy my contribution, Robert & Anthony's story, on its own here at JMS Books or here at Amazon!
Short Stories & Novellas
"A Sonnet for a Thunderstorm"
A historical flash fiction romance about a poet and his pirate – under 5,000 words, only 99 cents!
JMS Books
Ellis Eden retired from a career of piracy on the high seas to settle down with the man he loves: Tom Winleigh, youngest son of a wealthy merchant family. Ellis has tried hard to make a place for himself in respectable society, and he knows Tom loves him, and he's happy.
But when a fever nearly claims Tom's life, Ellis is faced with a foe he can't fight … and even though Tom's recovering, the ordeal has left Ellis shaken to the core.
And in the aftermath, on a storm-tossed afternoon, Ellis and Tom will face the tempests of their own emotions, and find safe harbor in each other.
"October Spice"
An Amazon #1 Best-Seller in LGBTQ Short Reads! A flash fiction romance – under 5,000 words, only 99 cents!

JMS Books
Evan Goldman loves fall, October, and Halloween. He's decorated his bakery, he's made cinnamon-pumpkin cupcakes, and he's spending his day off inventing a new cake recipe. He's not expecting customers, and he's busy with chocolate and ginger.
But a delivery mix-up has a customer knocking at Evan's door. And Matt's right out of Evan's fantasies: a deliciously adorable off-duty firefighter who compliments his cupcakes and makes Evan smile, and looks at him like Evan's the tastiest treat on the menu.
They've only just met, but Matt just might bring all of Evan's fantasies to life…with extra spice.
Gingerbread Dreams
Note: this is a stand-alone novella, but contains cameos from Evan and Matt from "October Spice"!
JMS Books
One Gingerbread Extravaganza competition. One cynical judge. One holiday-loving baker. Four challenges, and a pinch of spice…
Nate Miller has never entered a televised baking competition before. But he's good at gingerbread, he loves flavor, he adores the holiday season, and he'd definitely like $25,000 and the publicity for Nate's Bakes. He's here to win — but also to have fun and enjoy himself. Too bad one of the judges has a reputation for ice-cold critiques and precise perfection … along with a gorgeous smile, killer cheekbones, and a delicious air of command.
Marcus LeGrand knows his reputation: sharp, chilly, and demanding perfection. He's great for ratings, and baking-show audiences love his sarcasm and his expertise. But he's getting tired of being the bad guy, intimidating everybody, never getting close. He's here to judge this competition, and he'll do his job…but Nate's persistent friendliness, terrible holiday sweaters, and decadent gingerbread just might make Marcus want a taste.
The kitchen chemistry's instant, but Nate and Marcus will have to resist temptation in order to make it through the competition …and achieve their Gingerbread Dreams.
"Revelry" 
A holiday short, written as part of the Jolly Holidays themed releases from JMS Books!

Contains one lonely academic and one very friendly bartender! And an encounter during a scholarly conference, on a night which  happens to be the ancient Roman holiday of Sigillaria, of revelry and gift-giving and misbehavior…
"Statuesque"
A lesbian erotic flash fiction romance – under 5,000 words, only 99 cents!
JMS Books
Athena loves her wife. She loves Maria's smile and sculptor's hands and tender dominance. She loves being Maria's model, posing for the creation of art. She's happy to stay right where Maria's arranged her, taking pride and pleasure in remaining just so. And as she stays so perfectly still, her submission becomes more and more pleasurable — and distracting.
But if Athena can wait without moving, she'll earn her reward … and find the sweetness of release in the art of surrender.