~full-length M/M fantasy novels
Magician
JMS Books
BN
A magician in need of redemption. A loyal hero on a quest. And only one bed at the inn.
Once the world's most legendary sorcerer, Lorre fled the Middle Lands after his own curiosity — and a misguided transformation spell — turned him into a dragon and nearly killed a king. He isn't a dragon anymore, but he is hiding alone on a tropical island, avoiding people, politics, and his own reputation.
But now a hero's found him. And not just any hero. Prince Gareth's full of patience, intelligence, a kind heart … and unfairly attractive muscles. And he needs Lorre's help: his tiny mountain kingdom is under attack from ice magic, and Gareth hopes the world's last great magician will save his people.
Lorre is done with quests and princes and trying to change the world. But Gareth might tempt him to believe in magic again…
Frost & Raine
JMS Books
A Frost spirit who runs a coffee shop. A Cupid who works as a divorce lawyer. And magic in the air …
Raine's never been a conventional Cupid. He likes organization, his job as a successful lawyer, and black coffee, and he dislikes messiness, physical and emotional. He tries hard not to use his powers, because he'd rather not manipulate anyone's desires, and he's not planning to fall in love himself — and he wouldn't trust it if someone fell in love with him. But the owner of Raine's favorite coffee shop is endlessly patient, kind even in the face of sarcasm, and an artist with flavors and window decorations … and he might challenge Raine's resolutions about love.
Don enjoys his life. Even though he's a Frost, he finds comfort in giving people warmth: good coffee, a cozy refuge from the rain, holiday decorations, and overall cheer. But one gorgeous Cupid seems immune to Don's cheerfulness — and he keeps coming back, day after day. Fortunately, Don's always liked a challenge, and now he's determined to make Raine smile at least once … and he's discovering that Raine's sarcasm hides a generous and lonely heart, keeping the world at bay.
And if Don and Raine can learn to trust each other — with new coffee flavors, with their hopes for the future, and with their hearts — the Frost and the Cupid just might find their own magical happy ending.
Cadence and the Pearl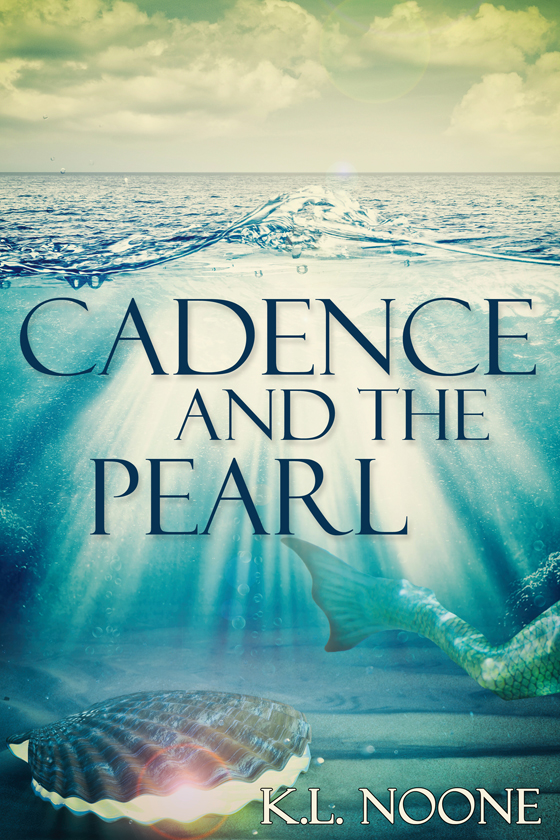 JMS Books (ebook)
Once upon a time, on a rocky island with enchantment under the ocean…
Cadence Bell left the windswept Northern Isles and his parents' inn for the theaters and royal masques and glitter of Londre, swearing he'd make his fortune as a playwright and poet, trading fish stew and rain for fame and adoration and a place at the Queen's Court. Now his parents are gone and Cade's inheritance brings him back home, where he'd never wanted to return. But magic lurks beneath the waves, a stray pearl might be a key to another world, and even the quiet local schoolteacher has secrets of his own.
Jeremiah Carver never meant to hide secrets. But he promised to tell no one about the other world he's seen, and he keeps his word. Even if that means concealing magic from Cadence Bell. Which is difficult, since Cade's not only a dazzling literary success, but also the person Jeremiah's loved from afar since their years-ago childhood. And he's afraid he's falling for Cade all over again now.
When Cadence falls under the siren spell of the ocean's magic, Jeremiah has to make a choice and return to a world he's left behind once before to rescue his heart from the sea.
A Prophecy for Two
In every legend of Fairyland, the fairies have their own reasons for crossing the border…
Oliver has spent his life as the crown prince of the northernmost kingdom on the human side of the border. He's meant to rule but in no hurry to do that, enjoying life and taverns with Tirian, his fairy-companion and best friend. But when the traditional Vision Quest calls― and a dragon appears―Oliver finds himself facing difficult questions about heroism, sacrifice… and the emotions he's discovering about Tir. But Tirian has secrets of his own: about his purpose, his magic, his feelings for Oliver, and a prophecy that will change the fates of two kingdoms forever.
~the Extraordinary series (~15,000 word novellas)
Happy established-relationship M/M/M superheroes in love! Specifically, one supersoldier (who's already lost a former partner), one former sidekick (who's cranky about the sidekick part), and one redeemed supervillain (who's been undercover, so the world still thinks he's a villain)…
Sundown, Holiday, Beacon
Three superheroes in love! Or one superhero, one former sidekick, and one redeemed supervillain, at least…
Ryan, John, and Holiday have been partners — in every sense of the word — for two years. They've saved the world, fallen in love, and remodeled the secret base to include bookshelves and a bigger bed.
But Ryan and John have always been the public face of the team. The world still believes Holiday's a villain. And he's been using that reputation to stay undercover and share information. Tonight, though, Holiday comes home injured, and his partners aren't sure the mission's worth his life.
Also contains lasagna, superhero theatrics, home renovation, a thunderstorm, and very enjoyable use of superpowers in bed.
Homecomings
More superheroes in love! This time, it's a complicated mission: meeting the parents.
With Holiday no longer undercover as a supervillain, they've made him a public part of the team … and of their relationship. But that won't be easy. Ryan's parents, as the team's science support, want to know every power-related detail, and ask questions about wedding plans and the future. Holly's supervillain parents are almost certainly no longer on this plane of reality. And John's parents love their hero son, but aren't too sure about his choice of partners. Still, Ryan, John, and Holly have faced worse, together.
Contains mystic portals, one set of overexcited parents, one uncomfortable dinner-party, and blueberry pie.
Refuge at Clifftop
JMS Books
A stormy night, and a mission gone wrong …
The superhero team of Sundown, Holiday, and Beacon is planning a quiet night — Ryan and his partners are all happily in love, and nothing's threatening the world except John's experiments with creative cake recipes. But Ryan's worried. Because Holiday's sorcerer's powers keep growing stronger. Less controlled. More unpredictable. Maybe even more than human.
But when a sudden deadly mission threatens John's life, Holiday's new abilities might be the only way to save him …
Contains superpowers, an earthquake machine, tea, hurt/comfort, and also comfort sex in a very large bed.
 ~the Elemental series (~12,000 word novellas)
Elemental
Part of the JMS Books Dark & Stormy Night short story themed releases!
Daniel Rose should be having a good night. He's a bestselling author; he's had film adaptations of his books; he's met movie stars. And there's a storm outside tonight, electric and wild. Dan's always liked storms.
Tonight, though, he's stuck staring at his computer and suffering from writer's block, out of ideas and inspiration. But when an adorable young man knocks at his door, asks to borrow Dan's kitchen spices, and announces witchcraft's real and their apartment building needs an exorcism, Dan's dark and stormy night takes a turn for the magical.
The Ninepenny Element
Verity Friday has been a good witch all her life: good at anticipating her coven's needs, good at looking out for her little brother, good at helping others. She's never been the most powerful or the most gifted at magic, but she knows she's made a difference.
But now her brother's moved out and found love, and Verity's feeling more alone than ever despite her coven family. Meeting her brother's boyfriend doesn't help — they're so obviously happy, and Verity's happy for them, but she's starting to think about what she might want for herself … and about the gorgeous lawyer she's just literally run into outside a bookshop.
Successful lawyer Amelia Burne is having a terrible day. She'd swear someone's cursed her with bad luck, but magic isn't, right?
Except the self-proclaimed witch she's just run into claims it is … and Lia actually is cursed. Lia isn't sure she believes this unlikely story, but Verity seems serious and wants to help, and maybe it's worth a try. Because when Verity smiles, the whole world gets brighter … just like magic.
~The Pooka's Share (~20,000 word novella – also available as part of the Legendary Loves collection!)
JMS Books
Faerie horses should at least show up on time. That's Aidan's opinion, anyway. He's been waiting for the pooka all night, to catch it stealing apples from human orchards. This Magical Enforcement Division assignment's supposed to be easy—and Aidan could use the break, after a previous case gone badly wrong. But when the apple-thief pooka does show up, it takes the shape of a gorgeous young man…who doesn't seem to mind being captured at Aidan's hands.
Ink left his herd to seek out adventure, and he's found it, in the form of a devastatingly handsome MED agent. He's always been up for a challenge, and Aidan Callahan is certainly that: gorgeous, powerful, and good at his job. Ink's perfectly happy to let Aidan put a hand—or an enchanted bridle—on him, especially with that note of command. It'll be simple and fun, a decadent magical one night stand—and Ink knows they'll both enjoy it.
But this night isn't simple. Ritual magic and Aidan's own complicated gifts collide, and the family legacy he's been avoiding becomes important…though Aidan's starting to think it's not as important as keeping Ink in his arms.
Legendary Loves Volume 1 contains three paranormal shifter M/M romances, at a bundle discount price!
Stories included:
Metamorphosis by Pelaam: When Ryker arrives in Puerto Rico, he doesn't anticipate falling for the handsome and flirtatious Alejandro, who works at the hotel where he's staying. There's definitely something between them, and then Ryker uncovers a world he couldn't have dreamed existed. He already knows he's in love with Alejandro, but something dark and deadly is stalking him.
Pine Tree Mary by Ofelia Gränd: What should be a simple chase drops Detective Quinn Manning into a real-life world of myth and legend when he stumbles upon Hush, who is a hulder, a pine tree Mary. His people live in the forest and feed off energy of passing humans. When Manning's partner disappears, he needs Hush's help. While working together, their connection grows, but can a human have a future with a creature of the forest?
The Pooka's Share by K.L. Noone: Aidan's on an easy Magical Enforcement Division case: stolen apples. But the apple-thief faerie-horse shifts into gorgeous young man, Ink, who left his herd to find adventure. He likes Aidan's hands, and that enchanted bridle, on him. But ritual magic and complicated powers collide, and the family legacy Aidan's avoiding becomes important, but maybe not as important as keeping Ink in his arms.
~Other Short Stories
"Honey Witch"
An Amazon #1 best-seller in 30-Minute LGBT Reads! My first-ever lesbian erotic flash fiction short! Published as part of the JMS Books Hot Flash collection!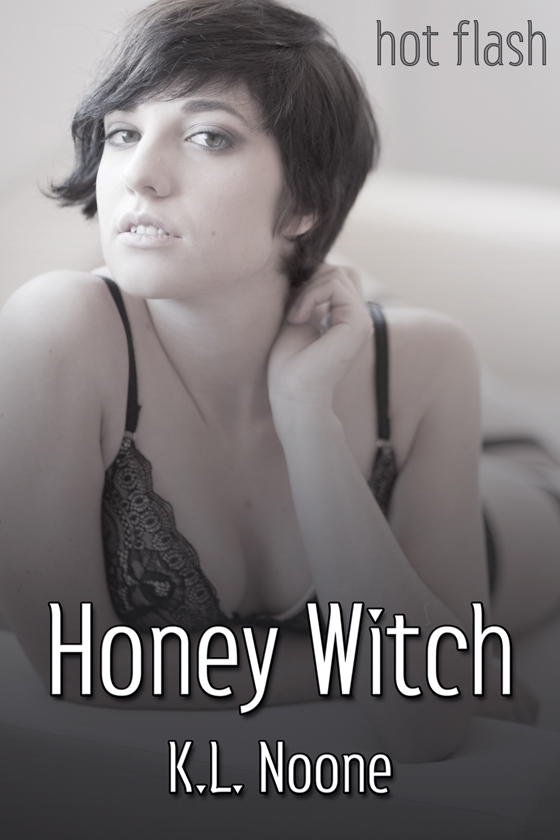 JMS Books
Where does a princess go for advice? In the kingdom of Rosewood, the answer's simple: ask the honey witch.
Ursula has grown up knowing she'll inherit the throne, and she's devoted to her land and her people. But she wonders about her future, whether she'll be happy, and whether she'll marry for love. Beautiful earth-witch Esmerelda promises answers, divined in magical honey… and one smile from her has always made Ursula's heart race.
Esme has loved Ursula silently for years, despite knowing a common earth-witch can't hope to marry a princess, especially one so generous and passionate and worthy of a royal marriage. But when Ursula comes to her with a question about love, Esme can't resist introducing her princess to the sweetest magic of desire… and some even sweeter uses for enchanted honey.
"A Penny for Your Thoughts"
My second-ever flash fiction short, published as part of the JMS Books Hot Flash collection!
JMS Books
~a comfortable sort of domestic high fantasy setting!
~m/m romance!
~a clockwork-magic kitten!
~love confessions!
~one adorable magician
~one big bashful artifact hunter who keeps bringing said magician cursed items to defuse
~a LOT of mutual pining
~one confession-spell magic coin!
Morgen Hob spends his days traveling the kingdom, collecting dangerous magical artifacts and bringing them to his local magician for disposal. He's good with his hands and good at his profession … but not very good at telling Averet how he feels.
Averet Coral, newest magician in the kingdom of Lea, likes helping people. He likes inventing magical toys and solving puzzles. And he definitely likes the shy, kindhearted, heroic artifact hunter who keeps bringing him new challenges. He knows what he wants…but he's less sure about Morgen's feelings.
But when Morgen's latest find comes with a truth-telling curse, Morgen and Averet will have to admit their hidden desires…
"Bisclavret" (featuring a demisexual king and his werewolf!)
JMS Books
A very long time ago, in the very old forests of Brittany, a werewolf loved a king…
The Lord Bisclavret has a secret. A family enchantment. A wolf's curse, transforming him when the moon is full. He hopes to be a good lord for his people, and he's always been a loyal king's man, even if the new king is inexperienced and scholarly. But one betrayal might leave him trapped in wolf-shape forever … unless his king can save him.
Andreas would rather be a University scholar than a king, and has no interest in a royal marriage — desire's always come slowly, if at all. But he loves his kingdom, so he'll try to protect it, even when rumors of a man-killing wolf spread across his land. He'll pick up a sword and go out on a hunt, and hope to keep his people safe.
But the wolf has the eyes of a man, and the scholar-king's knowledge of folklore and fairy-stories might break a werewolf's curse… with the help of love.
Very loosely based on the twelfth-century story by Marie de France, Bisclavret features a bisexual werewolf lord, a demisexual king who'd rather be a scholar, some exasperated men-at-arms, and very important stolen clothing.
Note: I wrote the first draft of "Bisclavret" several years ago, in grad school, when I read the medieval tale and couldn't not write the m/m romance version! In some ways it's a little glimpse of me as a younger author – I've revised it since, of course! I'm so proud to see it published by JMS, and I hope you like it!
"Of Starlit Balls and Starship Captains" (an m/f short story with two bisexual MCs!)
JMS Books
Space opera, Regency romance, and an invitation to an Imperial ballroom among the stars…
Captain Catherine Everington loves her starship, her crew, and their mission of interplanetary exploration. New worlds beckon, and Kit's always wanted to discover them. But a summons from her mother brings a reminder of Kit's family obligations, including the title and place she'd once given up among glittering Regency society, on the capitol planet.
The Regency is ending, and the new Emperor will take the Galactic Throne, which means he'll need to choose an Empress. But Arthur has never been a conventional heir, and he's fascinated by discoveries and languages and new frontiers. And an unconventional starship Captain with a love of the unknown might be exactly who he needs…
"Sound the Fairy Call"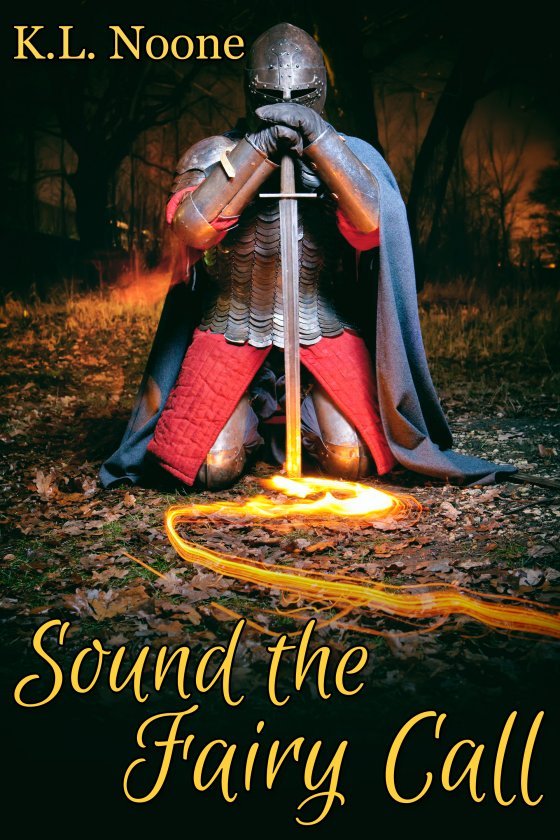 After three years of fighting in the service of his mercenary company, Eoan's ready to lay down his sword and return home. He's seen enough war and destruction and ruined villages; he only wants to find someplace peaceful and warm where he can figure out a new life.
But he's a long way from home, in the pouring rain. And rumor says the forest around him contains inhuman magical creatures such as dragons, garwolves, fairies, and sprites. He should be safe if he doesn't leave the path … but fairies have ways of tempting weary travelers.
Julian hadn't actually meant to entice the tired soldier from the path. He'd only been playing music for himself, and it's been so long since he's introduced himself to anyone, he barely recalls his own name.
But now he has a human in his forest, and Eoan clearly needs care and comfort and healing. And Julian's been very lonely for a very long time. But maybe he doesn't have to be.
"Sorceress"

The re-release of my very first ever published romance story, courtesy of JMS! Originally published by Ellora's Cave, way back when…
"Sorceress" is m/f  fantasy romance – a sorceress and the king's illegitimate older brother – with bisexual main characters, and a dragon and enchantment and siblings and a lot of tea and compassion.
If you've read the older version, this version's been reworked, and it's about two thousand words longer – so come check out the new one!
"Peaches & the Shadow"
My Poe-inspired – but relatively light and fluffy, despite that! – October story!
Featuring the ghost of an Old West brothel-keeper, a young Knight of Eldorado (Poe's spelling), some erotic magic, and at least one fancy waistcoat.
"One Mocha, with Enchantment" in Coffee: Hot, edited by Victoria Pond
Contains a very old Celtic god, his coffee shop, his artist boyfriend, and deliciously naked cures for a lack of inspiration…
"The Frog's Princess" (writing as Kristin Noone) in Marion Zimmer Bradley's Sword and Sorceress vol. 23, edited by Elisabeth Waters
An old one, but why not share? Essentially a retelling of "The Frog Prince," only with rival sorcerers, a lonely princess, m/f romance, and, of course, a happy ending.
~~~~
No longer available: the very first version of  "Sundown, Holiday, Beacon," in Happiness in Numbers, edited by Nicole Field